Polyram's Proactive Regulatory Approach
Polyram strives to be at the cutting edge of advances in standardization and regulatory compliance. Our customers for Bondyram®, for irrigation and water sector materials and for other industries, all benefit from the fact that we serve the automotive industry and thus adhere to strict standards.
Our approach to regulatory compliance is one of proactivity. We initiate our certification updates, making sure we are always in a leading regulatory position.
Highlights from our regulatory compliance activity:
Polyram is certified according to the latest new IATF 16949 Automotive standard
We work with 7 organizations regarding potable water regulation compliance
Polyram provides diverse compliance confirmation for its products
UL 94 flammability testing and glow wire test
Food compliance regulation
REACH– Registration, Evaluation, Authorization and Restriction of Chemicals
REACH is defined by the European Chemicals Agency (ECHA) as "a regulation of the European Union, adopted to improve the protection of human health and the environment from the risks that can be posed by chemicals, while enhancing the competitiveness of the EU chemicals industry.
It also promotes alternative methods for the hazard assessment of substances in order to reduce the number of tests on animals."[1]
As a manufacturer who is not established in Europe, Polyram is not required to follow REACH regulations, even if it exports to Europe.
However, its European clients are reluctant to work with manufacturers who cannot comply with "REACH", as they must ensure their imported materials are compliant with its demands.
Polyram seeks to support its European clients and their requirements by complying with REACH.
Companies wishing to comply with REACH regulations and to export chemical products to the EU under them, must nominate an Only Representative (OR) located in Europe to collaborate on the registration and risk assessment process.
The burden of proof lies with the companies. ECHA specifies that "To comply with the regulation, companies must identify and manage the risks linked to the compounds they manufacture .
They have to demonstrate to ECHA how the substance can be safely used, and they must communicate the risk management measures to the users."[2]
ECHA uses processes of registration and evaluation of chemical substances, which are compiled together and which lie at the base of REACH regulatory requirements.
The assessing committee needs to understand if the risks of use are manageable. If yes, compounds can be declared compliant. The committee may restrict or even ban the use of materials it deems hazardous.
Materials considered dangerous are included in the candidate SVHC list[3], which is published and evaluated periodically.
Polyram's regulatory department, with the help of R&D and the lab, works methodically to comply with all the legal requirements and registries for all the shipping destinations of our goods.
We make sure that all our products meet the requirements.
We work with a "take the initiative attitude" – we do not wait until a client makes a specific requirement, but rather strive to ensure in advance that all our formulas are compliant with every new SVHC specification list.
The scope of involvement for many industries with chemical substances and their regulatory compliance is not always intuitive.
There are many companies who use chemicals as downstream users and may not even realize it.
Sometimes regulatory requirements are not connected directly to the chemical substance but rather to cleaning after it or other required treatment.
A special angle on this issue comes with food and beverage regulations.
Any materials that can be used in products that somehow may come into contact with people, and more specifically can be inserted into the mouth, must be reviewed for compliance with food and beverages' regulations.
Whether its food packaging products, polymers for home appliances, children's toys or DIY ('Do It Yourself' products), Polyram resins can be found in playgrounds, various home devices and of course Bondyram® for packaging goods.
Therefore, it is imperative that Polyram examines its formulas carefully and make sure they are compliant for use in products that may fall under regulation.
In addition, extruders used for producing these compounds need to be cleaned with proper purging agents – To gain compliances, Polyram not only looks at its products but also at its manufacturing process.
REACH will come into full effect in the summer of 2018 and Polyram is making every effort to be ready and to comply with all its requirements until then.
We invite you to contact us and inquire about REACH for the products you require. sales@polyram-group.com
Potable Water Regulations
Polyram works with seven different organizations that inspect the substances which are in contact with potable water.
NSF
The American public health and safety organization inspects and certifies manufacturers of materials that comply with its safety, health and environment requirements.
The organization develops standards for certification of products and systems and it is an independent accredited organization that also provides auditing, education and risk management solutions.[4]
WRAS
WRAS is short for Water Regulation Advisory Scheme and it is the body responsible for public health protection in the UK.
On its website[5] its states its purpose as "the protection of public health by preventing contamination of public water supplies and encouraging the efficient use of water by promoting and facilitating compliance with the Water Supply (Water Fittings) Regulations and Scottish Water Byelaws."
Its states four main objectives for its activity, related to the Water Fittings Regulations: raise awareness, provide approval scheme, provide cost effective support and guidance, represent the UK water industry.
ACS
Attestation De Conformite Sanitaire (ACS) is the material safety approval required for materials and products in contact with drinking water in France.
Certification is mandatory to all materials or products that come in contact with water.
For Polymers, formulas are reviewed against a positive list.
This review will determine which tests are required to comply.
An ACS certificate is issued by an approved laboratory and is valid for up to five years.
KTW/ UBA
The German environment office (Umwelt Bundesamt) is responsible for publishing and evaluating compliance with the KTW guideline[6].
A guideline for Hygienic Assessment of Organic Materials in Contact with Drinking Water.
KTW contains test protocols and safety requirements for plastics and silicones that come into contact with drinking water.
Here too, evaluation criteria and tests are determined according to a positive list of starting organic materials.
KIWA
An independent company that states it purpose as "facilitating your quality assurance needs for your products and services in the water sector."[7]
In its Netherlands website it is specified that the company provides high-quality certification services that are supported with inspection, assessment, technical knowledge, research, training and data services.[8]
AS4020
Compliance with Water Fitting Regulations is required in Australia for any manufacturer of water installation that carried water to and from public mains.
AS2040 is the accepted standard for non-metallic materials and is ranted directly by representatives of the water suppliers.
The standard covers five test categories to ensure that certified materials do not:
Impart odor or flavor to the water
Cause change in the appearance of the water
Promote microbiological growth (MDOD test)
Leach substances harmful to human health into the water (cytotoxicity)
Leach toxic metals into the water
BELAQUA
"Belaqua" is "The professional federation representing the public services of drinking water and waste water treatment in Belgium."[9]
The organization provides conformity inspections to appliances that are connected to the water supply network and approval of materials used for water distribution required by the Hydro check system.
—
Polyram's pro-active approach to regulatory compliance means we take great care to study each of the water regulatory compliance standards and positive lists.
We then check our formulas to see which materials can comply with which authority and strive to gain official certification when it is required.
Polyram currently manufactures 21 products that are certified as compliant with 30 international food and beverage regulations.
See Table below for more information:

UL94 Standard for Tests for Flammability
Polyram manufactures many compounds that are targeted for the production of devices and home appliances and which must be compliant with anti-flammable standards.
Our laboratory ensures that materials are tested in accordance with the various degrees of the UL94 standard (V0, V1, V2 or HB) sending samples to independent laboratories to gain the official UL94 stamp when it is required.
Officially certified compounds are tested annually according to UL94 testing guidelines to maintain the official yellow card. Official test are conducted at Polyram four times a year.
UL website[10] defines UL 94 as "tests for flammability of polymeric materials used for parts in devices and appliances.
They intend to serve as a preliminary indication of their acceptability with respect to flammability for a particular application."
Furthermore, the tests "are intended to be used solely to measure and describe the flammability properties of materials, used in devices and appliances, in response to a small open flame or radiant heat source under controlled laboratory conditions."
Polyram lab holds a standard cell for combustion tests. In accordance with UL94 testing guidelines, as demonstrated in the table below: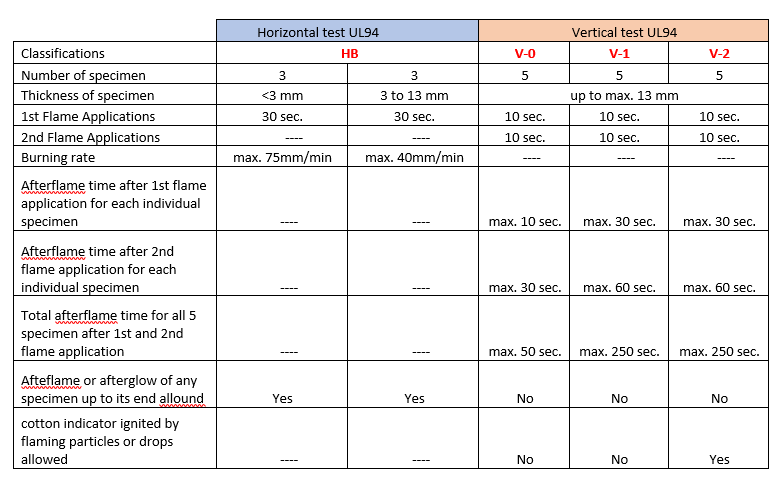 (Check out our list of UL94 compliant products at http://www.polyram-group.com/search (Filter: certifications/UL))
IATF 16949 Standard
In May 2017, Polyram upgraded its automotive certification to the new IATF 16949:2016 standard.
The transition process to IATF 16949: 2016 has been completed at Polyram, and more than a year before the September 2018 deadline published by the IATF.
Polyram is one of the first manufacturers worldwide to achieve this upgrade.
In its website, the International Automotive Task Force (IATF) explains that the IATF16949: 2016 standard was created "with the aim of harmonizing the different assessment and certification systems worldwide in the supply chain for the automotive sector"[11].
The ISO/TS 16949 standard exists since 1999 and has become one of the most widely used international standards in the automotive industry. It has been updated in 2002, 2009 and most recently in 2016.
The 2016 revision is the first to be referred to as IATF 16949 and contains a strong customer orientation.
The new standard was created following feedback from certification bodies (such as ISO), auditors, suppliers and OEMs. The continued alignment with ISO 9001 is thus ensured.
The new standard includes a common set of techniques and methods for common product and process development for automotive manufacturing worldwide, and defines the requirements of a quality management system (in accordance with ISO 9001: 2015) for organizations manufacturing for and in the automotive industry.
IATF 16949 is designed to align with top standard quality systems but also with the specific and strict demands of various customers in the automotive industry.
A special emphasis has been put on quality management targeting defect detection, thus reducing the risk of product or service failure in automotive production.
The intent behind the 2016 revision is to focus on design control elements to ensure the standard incorporates more complex supply chains while adhering to customer requirements of quality and supporting sustainable development.
The IATF 16949 standard aligns with the ten clauses of ISO 9001: 2015 and the Plan-Do-Check-Act approach as well as risk-mitigation-thinking of the new high level structure.
Various areas of product development and production have been addressed, including: risk based analysis, customer requirement integration, auditor competency, product safety, manufacturing feasibility, warranty management, support and contingency planning, embedded software development and training opportunities.
Polyram has completed the recommended process of familiarizing itself with the new standard, conducting a gap analysis and creating an implementation plan to achieve the new certification, including required training, KPIs, documentation and evidence submission.
In accordance with IATF 16949: 2016, we have set to ensure the highest quality of production, monitoring and service, efficiently and effectively within the natural structure of the organization.
IATF 16949: 2016 certification is mandatory in the automotive industry and Polyram, who wishes to continue working with this industry has taken the transition challenge seriously, achieving early certification.
We invite you to check our list of IATF 16949 complaint products at http://www.polyram-group.com/search Use the "Certifications"
filter.
Summary – Advanced Standardization Always
As part of our proactive approach to certification, born form our wish to support our clients and to provide top notch manufacturing services, Polyram ensures that its regulatory department is always up to date on the latest standards and that it efficiently leads the cross organizational effort to comply with as many regulations as possible and ensure the highest quality of both our organizational infrastructure and our products.
[1] https://echa.europa.eu/regulations/reach/understanding-reach
[2] https://echa.europa.eu/regulations/reach/understanding-reach
[3] https://echa.europa.eu/candidate-list-table
[4] http://www.nsf.org/about-nsf
[5] https://www.wras.co.uk/
[6] https://www.umweltbundesamt.de/en/topics/water/drinking-water/distributing-drinking-water/guidelines-evaluation-criteria#textpart-2
[7] https://www.kiwawater.com/
[8] https://www.kiwa.nl/about/
[9] http://www.belgaqua.be/en/home.aspx
[10] https://standardscatalog.ul.com/standards/en/standard_94_6
[11] http://www.iatfglobaloversight.org/