UL94 Standard- Tests for Flammability by Polyram
Polyram strives to be at the cutting edge of advances in standardization and regulatory compliance. Our customers for Bondyram®, for irrigation and water sector materials and for other industries, all benefit from the fact that we serve the automotive industry and thus adhere to strict standards.
Our approach to regulatory compliance is one of proactivity. We initiate our certification updates, making sure we are always in a leading regulatory position.
Highlights from our regulatory compliance activity:
Polyram is certified according to the latest new IATF 16949 Automotive standard
We work with 7 organizations regarding potable water regulation compliance
Polyram provides diverse compliance confirmation for its products
UL 94 flammability testing and glow wire test
Food compliance regulation
UL94 Standard
Polyram manufactures many compounds that are targeted for the production of devices and home appliances and which must be compliant with anti-flammable standards.
Our laboratory ensures that materials are tested in accordance with the various degrees of the UL94 standard (V0, V1, V2 or HB) sending samples to independent laboratories to gain the official UL94 stamp when it is required.
Officially certified compounds are tested annually according to UL94 testing guidelines to maintain the official yellow card. Official test are conducted at Polyram four times a year.
UL website[10] defines UL 94 as "tests for flammability of polymeric materials used for parts in devices and appliances.
They intend to serve as a preliminary indication of their acceptability with respect to flammability for a particular application."
Furthermore, the tests "are intended to be used solely to measure and describe the flammability properties of materials, used in devices and appliances, in response to a small open flame or radiant heat source under controlled laboratory conditions."
Polyram lab holds a standard cell for combustion tests. In accordance with UL94 testing guidelines, as demonstrated in the table below: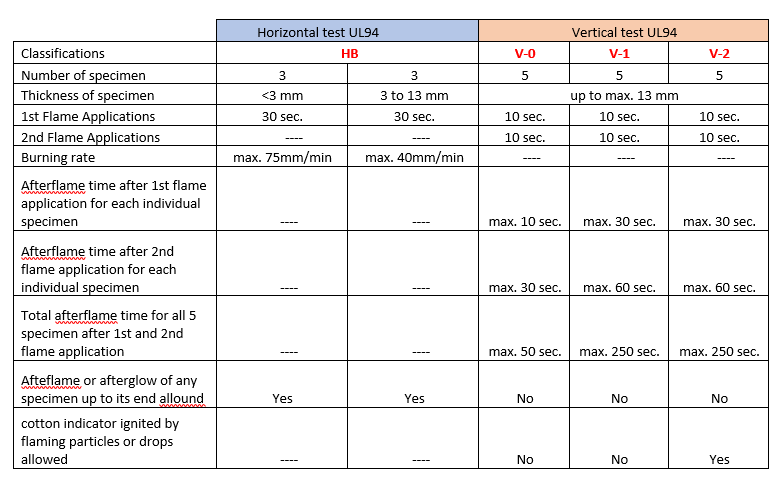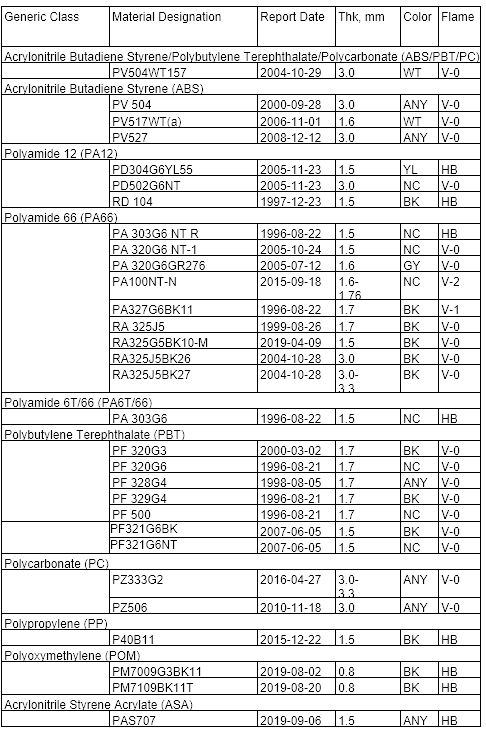 Summary – Advanced Standardization Always
As part of our proactive approach to certification, born form our wish to support our clients and to provide top notch manufacturing services, Polyram ensures that its regulatory department is always up to date on the latest standards and that it efficiently leads the cross organizational effort to comply with as many regulations as possible and ensure the highest quality of both our organizational infrastructure and our products.